Home Location The Cottage The Croft Local Area Activities Booking Dates Available

The Local Area
The Glen
Strathan glen has eight houses in it, two still occupied by working crofters. Two footbridges cross the burn which runs down to the sea. There is a sandy beach with interesting rock-pools on its eastern side. It is a bit of a scramble down to the beach so boats have to be launched at Skerray Harbour. Canoes, surfboards etc. can be carried down.
There are several interesting walks in the area surrounding the glen. Just over a mile across the moor is the very lovely deserted township of Sleitel. To the north-west are sea cliffs which have wonderful views and lots of Fulmars, Shags, Guillemots and Gulls nesting on them. Half an hour will take you to a remote loch where Red Throated Divers nest. All around are miles of open moorland. As there are a lot of sheep, dogs must be kept under control.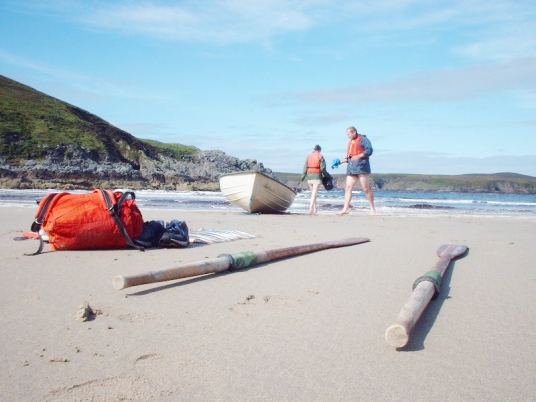 Skerray
Correctly, Skerray is just one of a number of small townships between Strathan Skerray and the Borgie river but the name is commonly used to describe the whole of this area. Public amenities comprise a harbour with a slip for launching boats, a village hall, a Free Church and Jimson's Centre. This last consists of three croft houses which have been restored. Inside you will find a Post Office and shop selling an excellent range of locally produced goods, a garden centre, information on everything that is happening, a small museum, and an office with Fax and computer facilities (no E-Mail yet! For this you have to go to the Telecentre in Bettyhill). A number of artists live in the village and occasionally run painting weeks.
Shopping
Petrol and general stores may be obtained in Tongue (7 miles) and Bettyhill (12 miles). The nearest Supermarket is 40 miles away, in Thurso.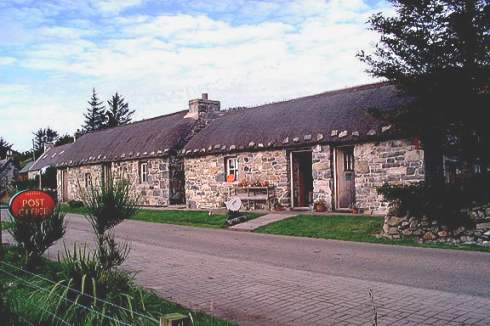 Jimson's, at the heart of Skerray
Home Location The Cottage The Croft Local Area Activities Booking Dates Available