Home Location The Cottage The Croft Local Area Activities Booking
The Croft
174, Strathan Skerray, By Thurso, Caithness. KW14 7TJ
This is the correct postal address; we are in Sutherland and 40 miles from Thurso!
Grid Ref: NC 642631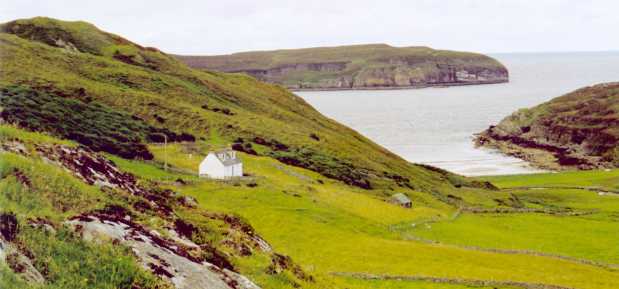 The croft is looked after by our uncle, Michael Gregory, email mike.gregory13@outlook.com. It is available for letting when family and friends are not using it. It is not serviced between tenants, so you will need to clean up at the end of your stay and leave it ready for the next visitors. It comprises:
Downstairs: Kitchen, Sitting Room and Bathroom. There is a wood and peat burning stove (N.B. Not Coal please) in the kitchen and an open fireplace (Wood or Peat) in the Sitting Room. Please replace any fuel you use - Burrs of Tongue (the local emporium) usually keep a good stock of logs. The kitchen is well equipped. There is a spin dryer in the bathroom as well as a 'tidy dry' over the bath. The water is heated by electricity.
Upstairs: Two bedrooms, one with twin beds and the other with a king sized double bed in it, both are provided with duvets and pillows but please bring your own covers and bottom sheets.
The last 25 yards of the road are grass and in wet weather this tends to get churned up. Please do not use it. Just park in the turning space on the track. You will find that it is a good idea to keep the gates shut - thus keeping the grass clear of sheep and muck.
The Croft usually has a reasonable stock of consumables- flour, soup, cleaning materials, polythene bags, aluminium foil, lavatory paper, etc. Please do not try to replace item by item but try to leave it as well stocked generally as you found it. If you break anything, please add the estimated value to your cheque for electricity.
Things to take: Map, towels, tea towels, sheets & duvet covers, pillowcases, food, waterproof clothing, boots, camera, binoculars (these are useful as the sea birds are spectacular).
Home Location The Cottage The Croft Local Area Activities Booking